STYX ~ REO SPEEDWAGON
With Special Guest Loverboy
"Rock and Roll is a participatory sport. It ain't passive. It ain't TV. Go out there and rock 'n' roll and dance and have fun"
– Steve Van Zandt
On Friday September 9, 2022 over 100 years of combined rock and roll greatness rolled into upstate New York. On a beautiful late summer evening, classic rock bands Styx, REO Speedwagon, with special guests Loverboy made a stop at the St. Joseph's Health Amphitheater at Lakeview in Syracuse. The nearly sold out crowd enjoyed hit after hit from these iconic rock bands. All three bands, with decades of hits, remain as energetic and engaging as ever pleasing the crowd with their timeless catalog of well-known songs. Loverboy started things off at 7 pm as Mike Reno and the rest of the band got the crowd into the mood with their arena rock hits including "Turn Me Loose", "Working for the Weekend" and "Lovin' Every Minute of it". Loverboy, formed in Calgary, Alberta in 1979, consist of original founding members Mike Reno on vocals, Paul Dean (guitar), Doug Johnson (keys), Matt Frenette (drums) and bassist Ken "Spider" Sinnaeve who joined the band in 2001.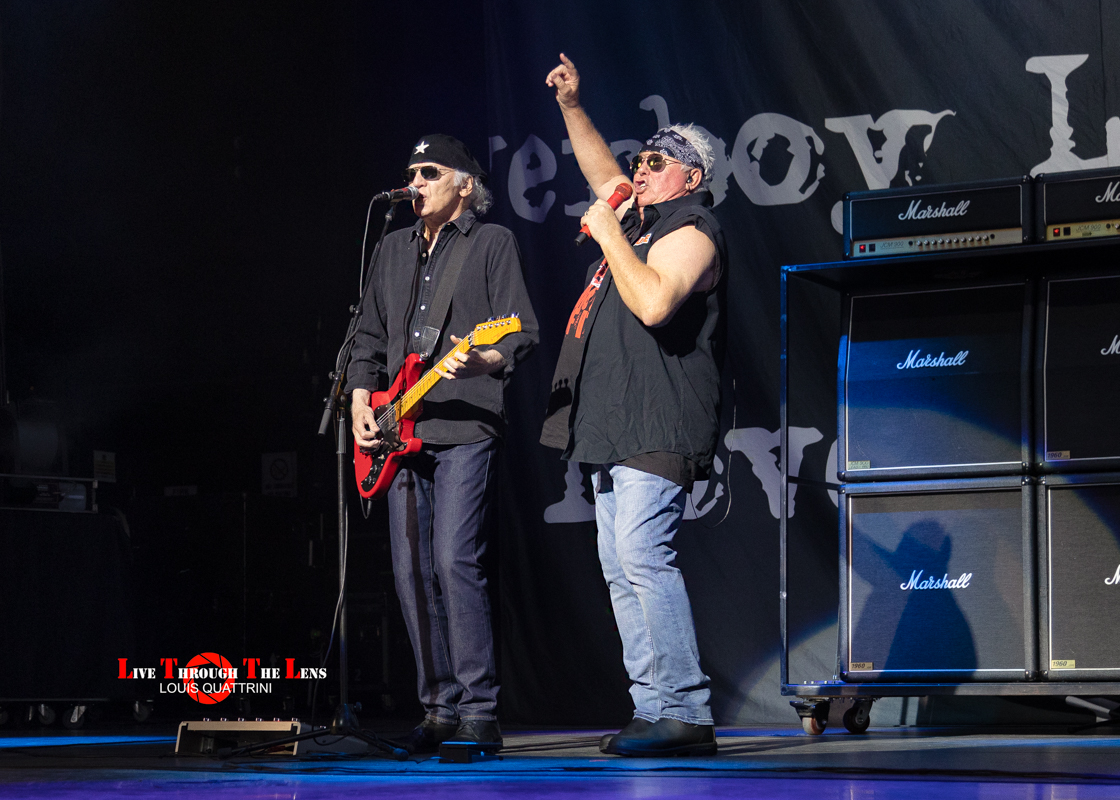 Next up was the legendary award winning REO Speedwagon. Known for mega hits "Can't Fight This Feeling", Take it on the Run", "Keep On Loving You", and "Ridin' the Storm Out". REO formed in 1967 and gained steady momentum in the 1970's with their 1973 album Ridin' the Storm out and then with their 1978 double platinum album You Can Tune a Piano but You Can't Tuna Fish. In the early 1980's REO gained a bigger fan following and commercial success following the release of 1980's Hi Infidelity which included four hit singles including the chart topping number one hit "Keep On Loving You".
REO Speedwagon's current lineup includes members Kevin Cronin (lead vocals, rhythm guitar, keyboards), Neal Doughty (keys), Bruce Hall (bass guitar, backing and lead vocals), Dave Amato (lead guitar, backing vocals), and Bryan Hitt (drums, percussion).
REO began promptly at 8 am with "Don't Let Him Go" followed by "Take it on the Run" and "Keep Pushin'". REO played for 75 minutes never missing a beat as they entertained their fans while most of them sang along to their well known songs including "Keep On Loving You", which Cronin exclaimed was the song that changed his life.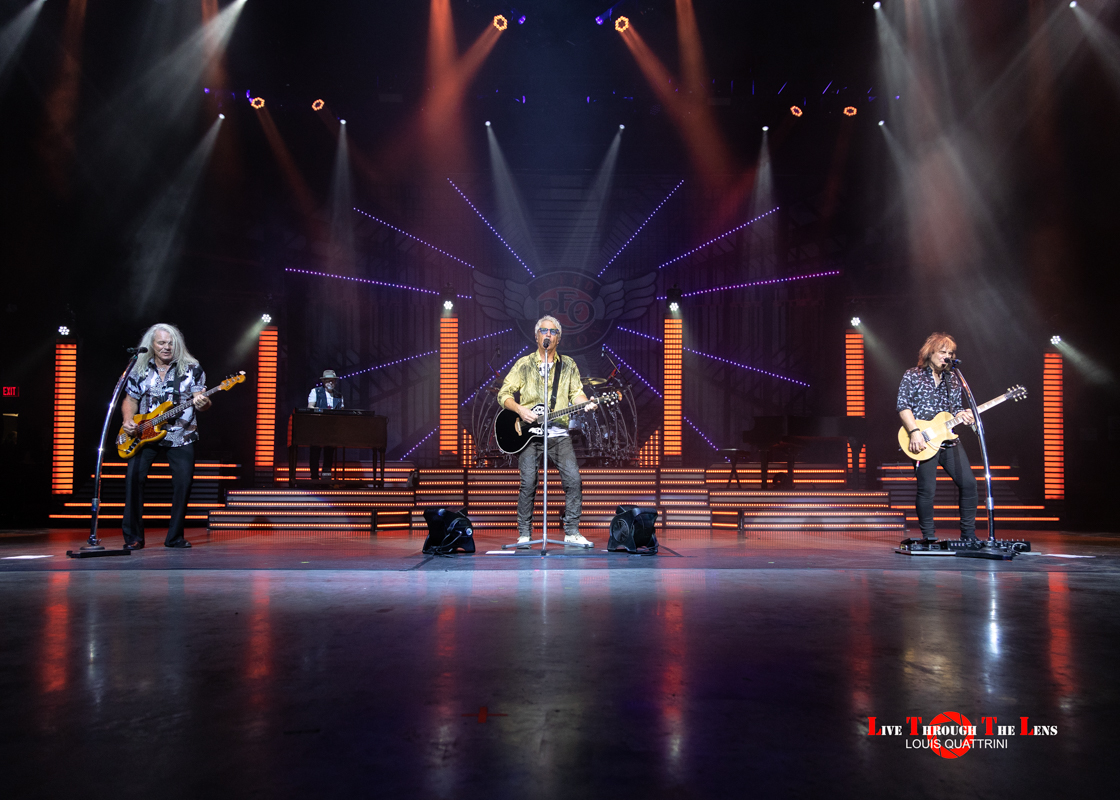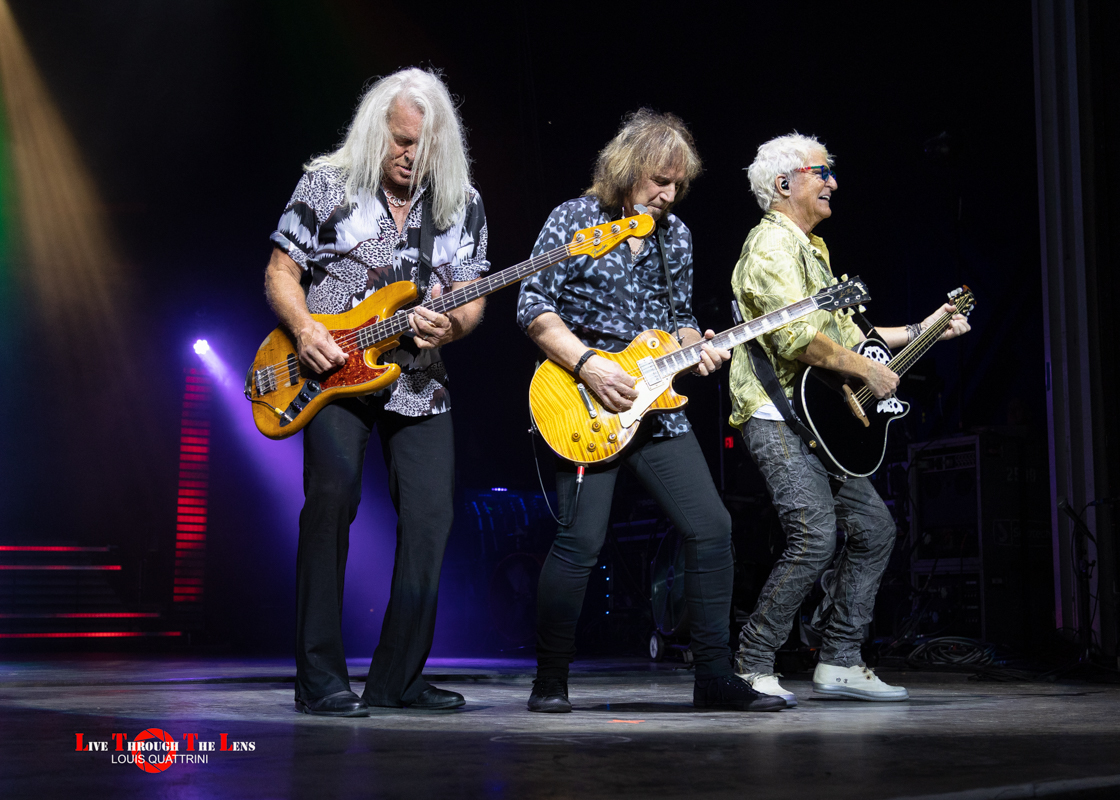 Finally taking the stage at 9:35 was the legendary classic rock band Styx. Styx formed 50 years ago in 1972 are best known for their hits "Come Sail Away", "Renegade", "The Grand Illusion" as well as a plethora of many other hits spanning their 5 decades. With such an impressive catalog of songs to choose from, it must be a challenge choosing which songs to include in their sets and which ones to leave out. No matter, the large crowd seemed to know and enjoy each song that Styx chose to perform in Syracuse as the applause was deafening. The sea of people also sang along in unison during several of Styx's more popular numbers.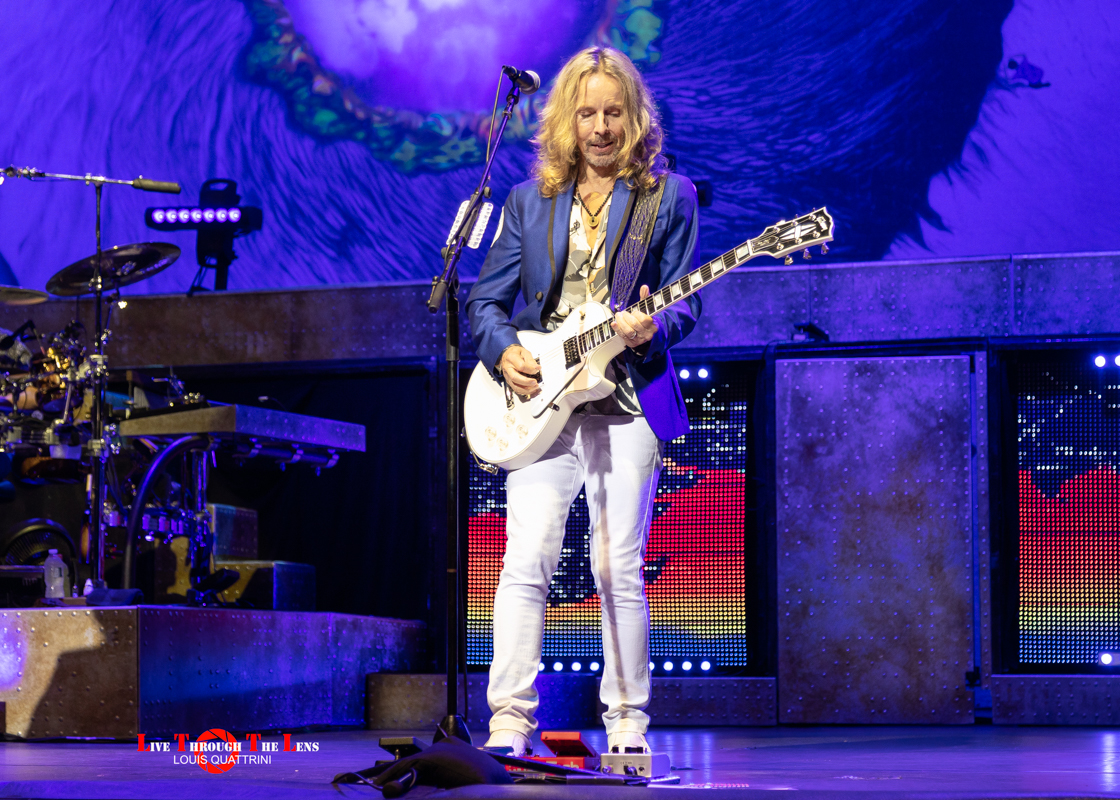 Styx has gone through only a few line-up changes in its 50 year history however most of the current line-up have been performing together for at least 20 years. Styx's current line up consists of original bassist Chuck Panozzo, guitarist and vocalist James "J.Y." Young, guitarist and vocalist Tommy Shaw. Other members include drummer Todd Sucherman (1995), vocalist and keyboardist Lawrence Gowan (1999), bassist Ricky Phillips (2003) and newest member, guitarist Will Evankovich (2021).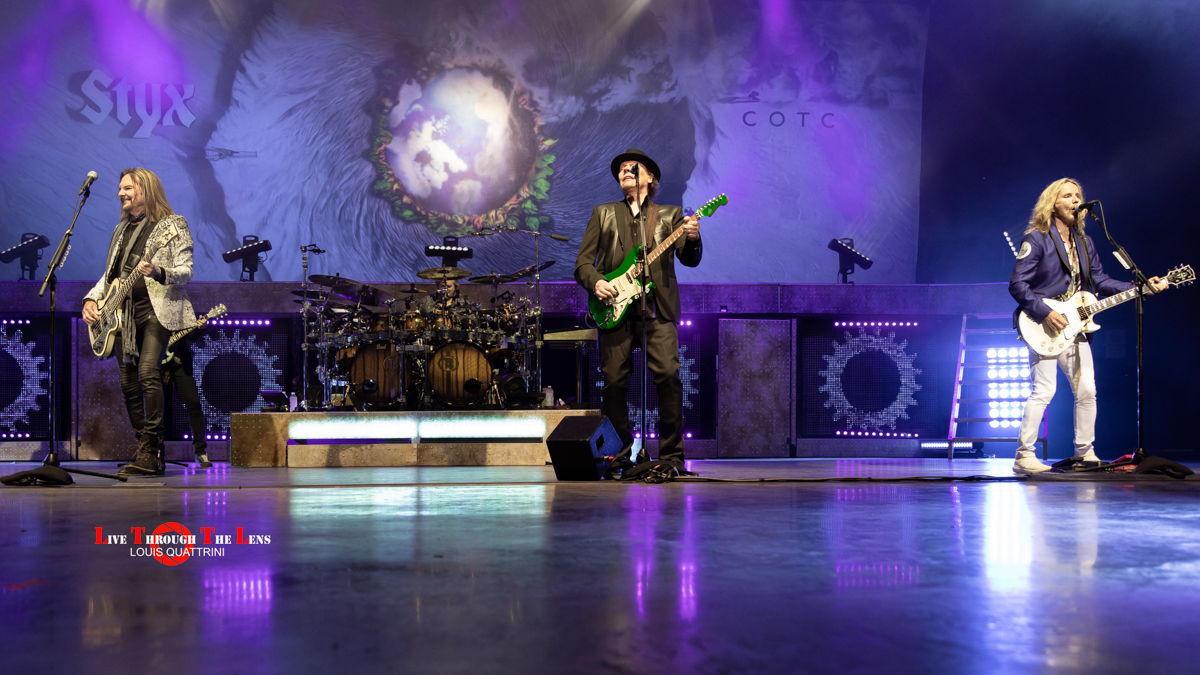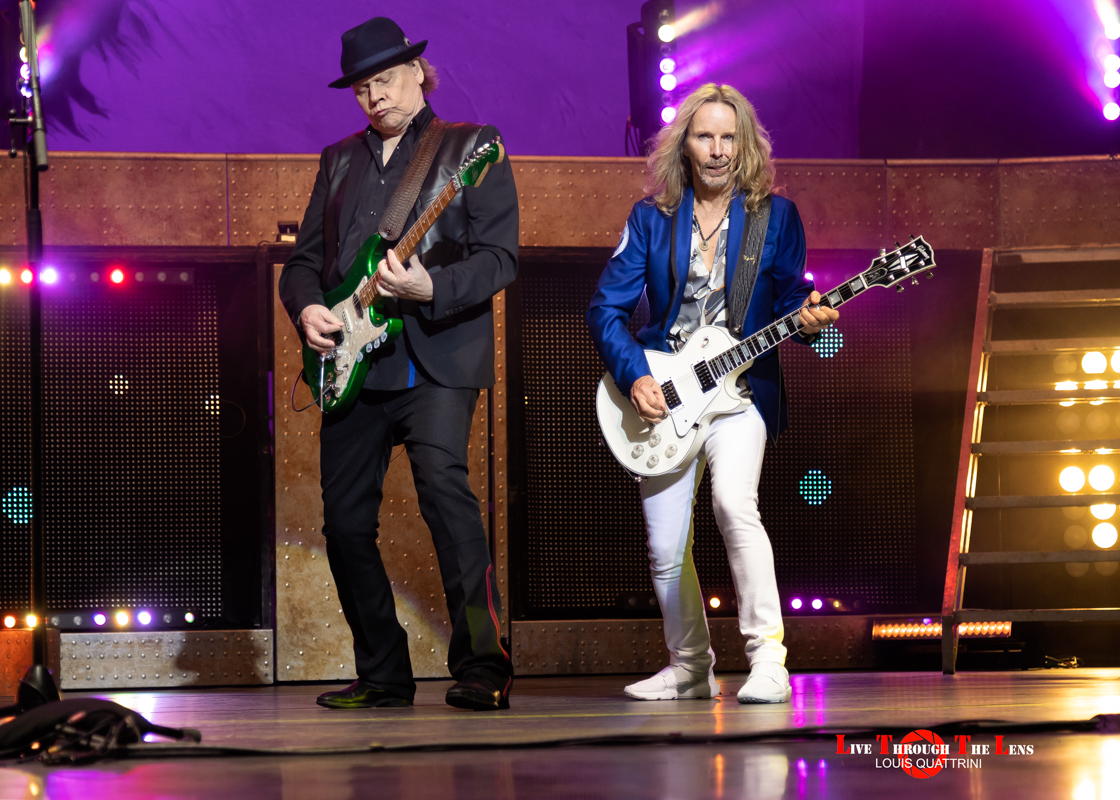 Styx started off the night with "The Fight of Our Lives" off their newest album Crash of the Crown released in 2021. They followed up with "Blue Collar Man (Long Nights)" and the title track "The Grand Illusion" from their 1977 triple platinum album The Grand Illusion which included the hit singles "Come Sail Away", and "Fooling Yourself".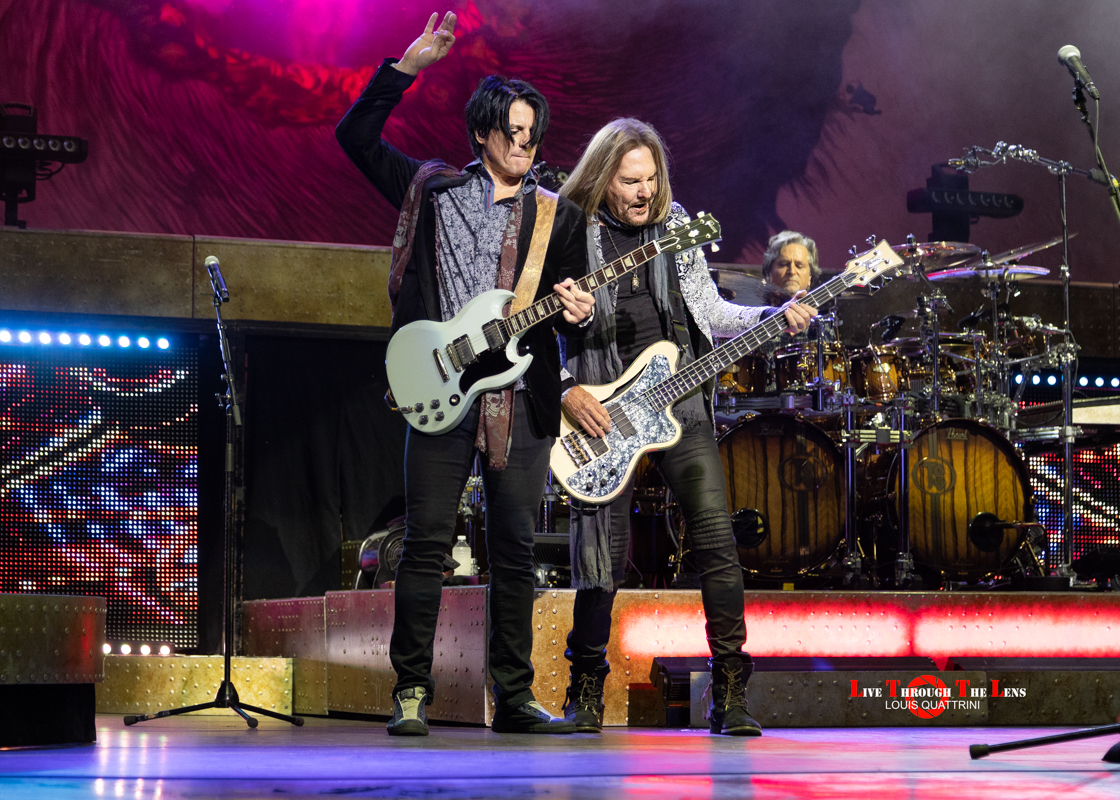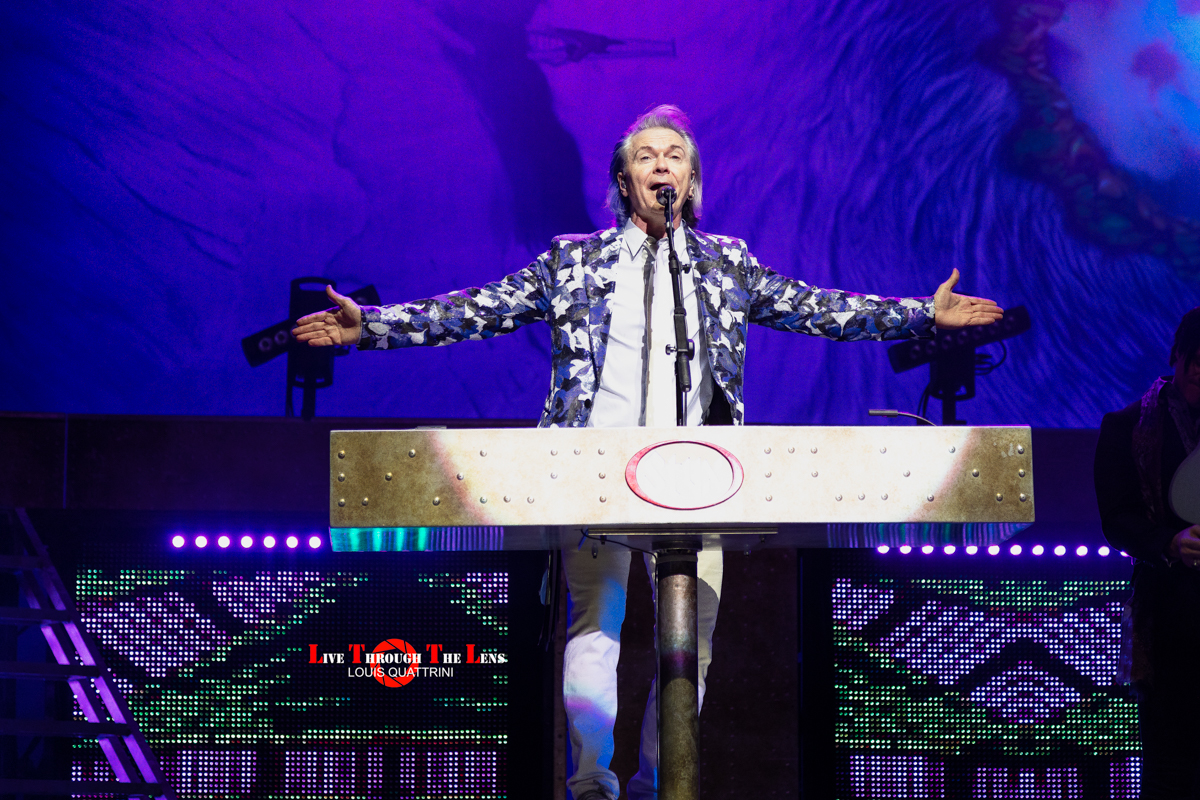 Loverboy Setlist: Notorious, Lucky Ones, Queen of Broken Hearts, The Kid is Hot Tonight, Lovin' Every Minute of It, Hot Girls In Love, Turn Me Loose, Working for the Weekend. 
REO Speedwagon Setlist: Don't Let Him Go, Take It on the Run, Keep Pusin', Live Every Moment, That Ain't Love, Tough Guys, Can't Fight This Feeling, Like You Do, Time for Me to Fly, Back on the Road Again, Ridin' the Storm Out, Keep On Loving You, Roll With the Changes.
Styx Setlist: The Fight of Our Lives, Blue Collar Man (Long Nights), The Grand Illusion, Lady, Crash of the Crown, Light Up, Sound the Alarm, Rockin' the Paradise, Fooling Yourself (The Angry Young Man), Save Us From Ourselves, Too Much Time on My Hands, Khedive, Lost at Sea, Come Sail Away. ENCORE: Mr. Roboto, Renegade
View Full Photos Here: